Margate Dreamland appeal heard in Court of Appeal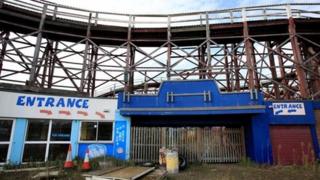 An attempt to reverse a decision to allow a derelict theme park site in Kent to be compulsorily purchased has been heard in the Court of Appeal.
Control of the Dreamland site in Margate passed to Thanet District Council after a High Court judge backed a compulsory purchase order in May.
The previous landowner, DreamlandLive, is appealing against the decision.
Dreamland fell into disrepair after it closed in 2003 and the council said it had been forced to carry out repairs.
The council and the Dreamland Trust want to create a heritage theme park with historical rides, classic sideshows, vintage cafes, restaurants and gardens.
'Legally flawed'
But DreamlandLive asked three appeal judges to block the compulsory purchase order (CPO), which enabled the council to take control of the site.
Richard Glover QC, for DreamlandLive, told the judges the order should be quashed as the Communities Secretary Eric Pickles's conclusion that the heritage amusement park would be "commercially viable" was legally flawed and based on factual errors and misleading advice.
He said it was a "draconian order with seriously harmful effects", and argued that errors were made by a public inquiry inspector who recommended to Mr Pickles that it be confirmed.
DreamlandLive's alternative plans for the site include an amusement park and up to 500 homes.
The council told BBC Kent that it had been forced to carry out urgent repairs to the site's important heritage assets on the site, which have been left neglected.
The authority has £10m of funding in place for phase one of the redevelopment, which includes restoration of the Grade II*-listed scenic railway ride. The site's biggest attraction was damaged in an arson attack in 2008.
Council leader Clive Hart said on hearing the appeal was to be brought: "The continued legal challenge is nothing short of frustrating."
'Squatters in building'
He said the authority could afford to reopen the site as a heritage theme park.
"It's a very tight scheme, it's public money and we've got to watch every penny of it," he said.
The authority has admitted to the BBC that it has no idea what the final bill will be.
Toby Hunter, from the Margate Town Centre Regeneration Company, criticised the council.
"Since the council has had it, the listed brass railings have all been stripped out and taken from the building," he said.
"There's a lot of debris around the place, the ceilings are taken down. At the moment, there are squatters in the building.
"The shame is the local authority has spent two million pounds, there's supposed to be a fire alarm, there's supposed to be CCTV and security.
"And yet the door is open, it's open to the public."
The judges reserved their decision to a later date.