Consultation over Chatham Dockyard World Heritage Site plans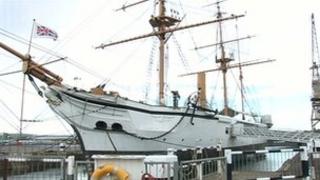 Plans to have Chatham Dockyard and its defences listed as a World Heritage Site have gone to public consultation.
The Kent dockyard is one of 11 places on a shortlist of potential World Heritage Sites.
It is hoped the Chatham bid will be submitted to the government, which is allowed to propose a new site each year, in October.
Medway Council described it as the world's best-preserved example of a defended dockyard from the age of sail.
A council spokesman said the Historic Dockyard Chatham had been on the government's shortlist of potential sites since 1999, but had to reapply in 2011 and was successful.
The council said it would ask the government to request the dockyard's nomination as a World Heritage Site in January 2016.
There are currently 27 Unesco World Heritage Sites in the UK, including Stonehenge, Bath, the Tower of London and the Dorset and East Devon Coast.
The consultation, which asks for the views of members of the public, is open until 27 October.