Dartford and Medway hospital trusts pull out of merger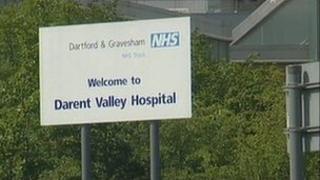 A planned merger between two Kent hospital trusts will not go ahead, it has emerged.
Medway NHS Foundation Trust and Dartford and Gravesham NHS Trust announced their plan to create a single organisation in September 2011.
But a statement issued on Sunday said the two trusts had both agreed it was not in their interests to proceed with the proposals.
Financial pressures had led to the plans being put forward two years ago.
'Death rate concerns'
A statement by the Dartford trust said: "Dartford & Gravesham NHS Trust and Medway Foundation Trust have both agreed it is not in the two organisations current interest to proceed with an integration.
"The trusts will continue to work together on a range of mutually beneficial projects as one would expect of neighbouring hospitals."
Medway NHS requested a pause in the integration process in February following concerns over its death rates.
A statement posted earlier this year on the Medway NHS website said the request came after the trust became one of 14 in England subject to a National Commissioning Board (NCB) review of "Hospital Standardised Mortality Ratios".
It said: "We recognise that we need time and space to fully focus on the NCB review and to ensure that integration with Dartford and Gravesham NHS Trust is based on solid foundations."
Dartford and Gravesham NHS Trust runs Darent Valley Hospital in Dartford, and Medway NHS Foundation Trust runs the Medway Maritime Hospital in Gillingham.