Canterbury's Beaney gallery to show Manet masterpiece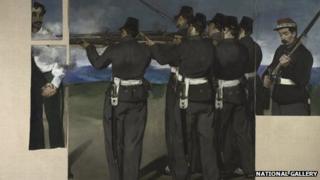 Two paintings showing the fatal ends of political power struggles are to be shown side by side in Kent.
The Beaney gallery has been selected by the National Gallery as the first to exhibit a masterpiece by Edouard Manet when it goes on tour next year.
It shows Austrian Archduke Ferdinand Maximilian being executed in 1867.
Curators at the Beaney will show it alongside a John Opie painting showing the murder of Thomas Becket in Canterbury Cathedral.
Both are dramatic paintings representing the tragic culmination of political power struggles, Canterbury council said.
'Cut into fragments'
The Execution of Maximilian is one of three works touring the UK between 2014 and 2016 as part of the National Gallery Masterpiece Tour.
Painted in about 1867-68, it shows the archduke being captured by Mexican revolutionaries and killed alongside two of his generals.
According to the National Gallery, the canvas was cut up into smaller fragments, some of which were sold separately, after the artist's death.
Edgar Degas eventually bought all the surviving fragments and reassembled them on a single canvas.
Experts believe part of the canvas was probably cut off by Manet himself.
The painting will be exhibited in Kent from 17 January next year to 16 March.