Afghan teenager Naj Hashimi wins appeal to stay in Kent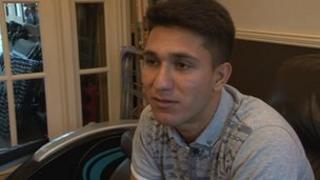 A teenager who who was illegally smuggled into Kent in a lorry has won his appeal to stay in the UK.
Naj Hashimi, 19, fled Afghanistan in 2009 aged 14 after his father and brother were killed by the Taliban.
He was sent to live with a foster family in Faversham, going on to pass 13 GCSEs and play cricket for his local club side.
But last year, when he turned 18, the government told him he had to return to Afghanistan.
On 5 March, Mr Hashimi was sent to the Dover Immigration Removal Centre.
He was granted a temporary reprieve on 21 March and legal proceedings began.
'Jumping around'
His application was initially rejected because Afghanistan was seen as a safe place, but his relationship with his foster family helped him to win the appeal.
"It was amazing," Mr Hashimi said.
"I just couldn't believe it when the solicitor phoned me up and said 'you won the appeal, the judge thinks you should be allowed to stay in this country'.
"I was jumping around in the room - it was so exciting for me."
Mr Hashimi, a keen sportsman, now wants to go to university and teach PE.
"This country gave me so much and I want to give back to them," he said.
Mr Hashimi faces a two-week wait to see if the Home Office will appeal against the ruling.
The Home Office said it was considering the tribunal's decision.