Chatham Waters: First phase of £650m redevelopment approved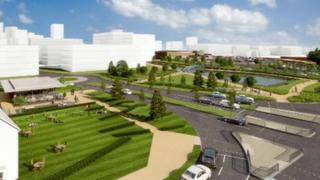 The first phase of a £650m regeneration scheme at Chatham Docks has been approved, almost three months after the original proposals were rejected.
The Chatham Waters scheme will include office space, education facilities, flats, townhouses and a superstore built by developer Peel Land and Property.
The firm altered the original plans following concerns about the design.
The developer claims the scheme could create about 3,500 jobs.
In June Medway councillors rejected the plans, saying they were "underwhelmed".
The new proposals, which saw a pub, restaurant and cafe removed, have now been approved.
The first phase will see the construction of the superstore.
Rodney Chambers, the leader of Medway Council, said: "This marks the beginning of a new era for the docklands at Gillingham, which promises to bring thousands of local jobs and economic prosperity to the area.
"Medway has attracted a major regeneration developer to the area in Peel Land and Property and I am pleased that they have changed the first phase scheme to take account of concerns about its design."