Kent museum statue marks Maidstone's regiment link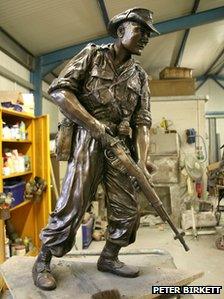 A bronze statue has been unveiled in Maidstone to mark the long relationship between an army regiment and the Kent county town.
The statue, which is in front of the town's museum, is of a soldier wearing a uniform from the conflict in Malaya.
The 1st Battalion The Queen's Own Royal West Kent Regiment (QORWK) was deployed to Malaya in March 1951.
Links between the regiment and the town can be traced back to 1794. The QORWK merged with other regiments in 1961.
After the barracks closed, the regimental museum was moved to the town's museum in 1964.
A service and dedication ceremony for the statue took place on Sunday during an annual reunion of the regimental association.
The statue was being unveiled by Maidstone mayor Councillor Clive English and General Sir Geoffrey Howlett, who served with the regiment in Malaya in 1953.
Names of 28 members of the regiment who lost their lives in Malaya are recorded on the plinth along with other soldiers who died between 1946 and 1966.
The so-called Malayan Emergency was a communist-inspired revolt against the British authorities which lasted until the late 1950s.
Related Internet Links
The BBC is not responsible for the content of external sites.