Kent MP calls for Sheppey crossing safety review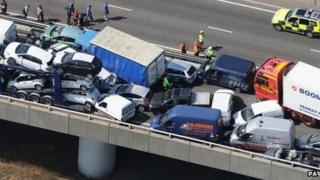 The government has been asked to undertake a review of safety measures on the Sheppey crossing in Kent.
A 130-vehicle crash in thick fog on Thursday morning left eight people seriously injured and 35 needing hospital treatment.
Local MP Gordon Henderson has written to Transport Secretary Patrick McLoughlin asking him to take measures to ensure the incident is not repeated.
Both the RAC and Kent Police have said it was a "miracle" no-one died.
In his letter Mr Henderson, Conservative MP for Sittingbourne and Sheppey, wrote: "My own view is that as a minimum, matrix warning signs should be introduced to give advance warning signs of potential problems."
'Human element'
Reports suggested some of the vehicles involved in the collision did not have lights on, despite the conditions; others may have been driving too fast.
Joe Ford, who was involved in the crash, said lessons could be learnt.
"It's mainly the human element, people driving more sensibly according to the road conditions and better lighting on the A249 would help," he said.
The AA has called for matrix warning signs "as a minimum".
Ch Insp Andy Reeves from Kent Police said the force's investigation would be a long process.
The Highways Agency said the bridge met standards when it was designed, but it would await the police investigation before considering new safety measures.
The £100m four-lane dual carriageway crossing, which connects the Isle of Sheppey with mainland Kent, opened in 2006.
That year, safety fears were raised by the then Chief Constable of Kent, Mike Fuller, who voiced concerns about there being no emergency telephones, lighting, or hard shoulder and called for a speed limit reduction.
John Griffiths, Highways Agency South East director, said: "We will take the findings from Kent Police's investigation and we will help with them accordingly."
The crossing is three-quarters of a mile (1.25km) long and rises to 115ft (35m) at its highest point.