Kent MP says children's centre closures 'should affect wealthy areas'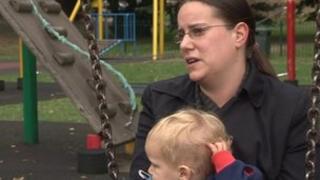 An MP has said the planned closure of up to a quarter of Kent's children's centres should only be implemented in wealthy areas.
Gordon Henderson, Conservative MP for Sittingbourne and Sheppey, said his constituency had "huge problems".
The proposals would see one centre in his area shut and the hours of a further two cut.
Kent County Council (KCC) has pledged not to close any centres in areas of high deprivation.
Twenty-three of the 97 centres in the county could be shut by KCC in an effort to save £1.5m next year.
Mother-of-three Lynn Marie Cook's children go to the Woodgrove Children's Centre in Sittingbourne which is earmarked for closure.
"To have it taken away from you, off your own doorstep - I think it's disgusting," she said.
"They're not thinking about the parents that need the extra help, need the extra advice."
Mr Henderson said: "If KCC are going to cut any or more children's centres it should be in wealthy areas such as Tunbridge Wells and Tonbridge and Sevenoaks.
"Not here in Sittingbourne and Sheppey, where we have huge problems."
Damian Collins, Conservative MP for Folkestone and Hythe, said he was "totally opposed" to the closure of the children's centre in New Romney, The Village children's centre in east Folkestone, or the Folkestone Early Years centre.
KCC has said that families will be able to access other areas.
Conservative Councillor Jenny Whittle said: "The usage of the centres we propose to close is either at a low level or the majority of users are also using another children's centre nearby which we do not propose to close."
The consultation is due to end on 4 October.