Kent Police child detention policy criticised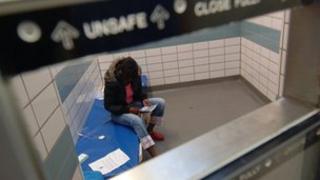 Kent Police have been criticised for holding children as young as 10 in custody overnight during criminal investigations.
Police say the youngsters are detained only when there is no alternative and are moved out as quickly as possible.
But lawyer Sophie Khan says detention can be traumatic for the children and their families.
The Howard League for Penal Reform is calling for more use of police bail or emergency foster care.
Detention figures falling
Figures released to the BBC under the Freedom of Information Act show more than 2,000 children aged under 16 have been held for at least four hours overnight in police cells in the county in the past three years.
However, that figure has fallen in each of the three years, dropping to 647 in 2011-12.
Frances Crook, chief executive of the Howard League - which campaigns for fewer people in prisons - said: "Police cells are no place for children. They don't need to be there.
"I'm pretty sure that almost every single one of these children was not put into any kind of custody afterwards, but probably just had a caution."
The charity would like to see the age of criminal responsibility in England and Wales raised from 10, possibly to 14, but Kent Police say they are working within the existing law.
'Traumatic impact'
In a statement, the force said: "Taking an individual into police custody is a decision which police officers do not take lightly, particularly when they are dealing with young people.
"When we have detained young people because there are no other safe places available, we work with partners in health and social care agencies so that other arrangements can made as quickly as possible."
Sophie Khan, who specialises in representing children in custody, said where there was no alternative but to hold a child in the short term, police should grant bail or arrange "secure detention" overnight.
She said: "It is traumatic. It takes a while for young people to get over the experience, and that impacts on their family as well because they have to deal with the psychological symptoms that the children are suffering."
The Howard League has not yet compiled comparative detention figures for the whole of England and Wales.
However, its last report showed that 53,000 under-16s had been detained in police cells overnight in 2008 and 2009.
Police said fewer than 2% of those held in Kent were under 12 and only one person was aged 10.