Living wage 'would cost Kent council £1.4m'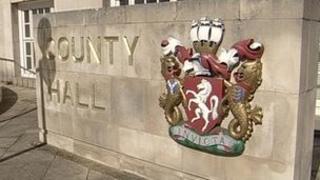 Paying county council workers in Kent the "living wage" would cost an extra £1.4m a year, according to a report.
The council looked into adopting the national living wage of £7.45 an hour following last year's pay negotiations.
The personnel committee will consider the report on Tuesday but Councillor Gary Cooke said it was unlikely the £7.45 rate would be paid.
"It comes down to the moral argument," said James Plunkett of the left-leaning Resolution Foundation think-tank.
"Is it acceptable to pay your staff so little they are having to receive welfare support to get by?"
Campaigners have been trying to persuade employers to pay the living wage since 2005, when it was first adopted by the Great London Authority (GLA).
The current rate is £7.45 outside London.
'Lowest scale abolished'
The minimum wage is £6.19, but Mr Cooke, who serves on the cabinet, said Conservative-run Kent County Council (KCC) did not pay any of its staff that little.
"In 2010 we abolished the lowest pay scale to ensure that all staff would be employed at a level above the national minimum wage," he said.
About 2,600 workers in KCC schools and 510 elsewhere would get a pay rise if the living wage were adopted.
But Mr Cooke said the personnel committee would "probably not" vote to do so.
"If members want to bring it up at council we can look at it there," he said.
"What we want to do, because we do value our employees very much, is to keep these things under review."
The Resolution Foundation published research earlier this month which showed 4.8 million workers in the UK earn below the living wage.
More than 85 councils in England and Wales pay the rate including Gravesham in Kent, which introduced it last month.
Mr Plunkett said it was important that KCC published the cost of paying the living wage.
"Local people can make a decision whether they think that's a good use of their taxpayers' money," he said.
"Some councils have found that it improves staff morale and so you get less turnover."