Sheppey crossing safety calls after 130-vehicle crash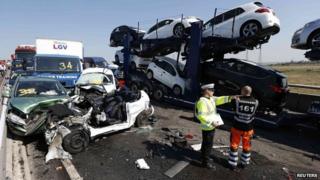 Speed restrictions and overhead lights should be on the bridge where 130 vehicles were involved in a series of crashes in fog, it has been suggested.
Eight people were left badly injured and 35 needed hospital treatment after the pile-up on the Sheppey crossing.
The AA has called for matrix warning signs "as a minimum".
The Highways Agency said the bridge met standards when it was designed, but it would await the police investigation before considering new safety measures.
On Thursday, the A249 bridge, which has a 70mph speed limit, was closed for nine hours while the wreckage was cleared. It partially reopened at 17:30 BST.
Those involved in the collisions described a mass of tangled cars, lorries and vans.
Fog 'was factor'
Edmund King, from the AA, said: "As a minimum we would like to see matrix warning signs either side of the bridge, so if there is severe weather it can advise that people should slow down.
"There's a good case here for reducing the speed, particularly when there's bad weather."
Both the RAC and Kent Police have said it was a "miracle" that no-one died.
David Bizley, from the RAC, said: "There was fog and the road was damp and we have had a prolonged period of hot weather so the road was greasy.
"There are pockets where someone has been driving too fast and too close and that causes an accident."
Ch Insp Andy Reeves said the investigation had begun but it would be a long process.
"Fog was certainly a factor," he said. "I understand the visibility was very poor at the time."
He said: "Clearly, that will be a major factor in the investigation, but beyond that obviously we will be looking at any of the other contributory factors around why these vehicles came together and why some stopped and some didn't."
Ch Insp Reeves said investigators would make recommendations but it would be for the Highways Agency to determine if any further measures were needed.
'Queue detection'
John Griffiths, Highways Agency South East director, said: "We will take the findings from Kent Police's investigation and we will help with them accordingly.
"We will have to think how best we can assist that and get our technical experts to consider what are the safety measures we can put in place."
He said his personal view was that a 50mph speed limit would have helped in this case, but he stressed that was a personal opinion.
Mr Griffiths said lighting was not seen as necessary when the bridge was designed, speed sign systems were used on motorways but not usually on dual carriageways, and a queue detection system that would warn drivers to slow down could be considered but installing it would be difficult.
"We will put forward proposals and we will look at how best to prioritise what we can get best safety benefit from," he said.
The £100m four-lane dual carriageway crossing, which connects the Isle of Sheppey with mainland Kent, opened in 2006.
That year, safety fears were raised by the then Chief Constable of Kent, Mike Fuller, who raised concerns about there being no emergency telephones, lighting, or hard shoulder and called for a speed limit reduction.
Councillor Ken Pugh, from Swale Borough Council, said he had campaigned for lighting and speed restrictions since the bridge opened.
"If the bridge had been lit properly and speed signs had come up, perhaps the tragedy would not have happened," he said.
The crossing is three-quarters of a mile (1.25km) long and rises to 115ft (35m) at its highest point.
In a statement, the Highways Agency said: "It is too early to speculate on the cause of yesterday's incident which is still under police investigation.
"However we continually keep safety under review and will work with the police investigation, as well as conducting our own review, to see if further safety improvements can be made.
"The bridge was built to our UK standards with a design speed of 70 mph.
"Any reduction in speed limit would have to be backed up by evidence to show it has a worthwhile safety improvement and would need to be enforced by the police to be effective."