Sheppey pile-up: 'I just heard brakes, screeches and bangs'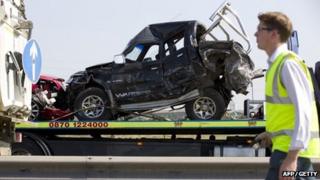 Dozens of people were injured as more than 130 vehicles crashed in thick fog on the A249 Sheppey crossing in Kent.
Eight of those hurt in the collisions, which took place at about 07:15 BST, have serious injuries.
Ambulance crews said 27 casualties needed hospital treatment and they dealt with 200 people at the scene.
Below is a selection of comments from motorists who were involved.
Claire Kilmister
"I saw brake lights in front of me and I just slammed on the brakes.
"It juddered and I just managed to miss but then behind a lorry clipped the passenger side with my little boy in there and swerved round.
"I went in front of the lorry and then I just heard brakes, screeches and bangs.
"I grabbed my son and we just ran down as fast as we could."
Martin Stammers, Minster
"The visibility was that bad you couldn't see any tail lights or anything like that.
"On the other side of the carriageway there were cars that were going way too fast.
"Some were going up to 60 or 70mph.
"It was eerily quiet at the beginning. All you could hear was the screeching of the cars and these thuds.
"It seemed to go on forever."
Catherine Ahearne, Isle of Sheppey
Catherine Ahearne was driving her husband Roy and baby Eva in a Volkswagen Polo on the way to Crystal Palace, south east London.
"There was a man running up the path at the side of the road, waving his arms around - that's the first I knew there was a problem.
"I could hear screeching and crashing of cars and pulled to the middle of the road, and stopped.
"We took Eva out of the car seat in the back and put her in the front with us, in case anything hit us, but thankfully it didn't.
"Someone was definitely looking down on us today."
Jay Stammers
"We were very lucky to make it through.
"We got through the smallest of gaps.
"All you could hear after was screeching and thudding as cars hit their brakes.
"We tried to slow quite a few down.
"It was just horrendous."
Andrew Avis, East Church
"I was following a car which was about three to four cars length in front of me, I couldn't see his rear lights but I could see his fog lights.
"I was in the outside lane, we were doing no more than 40 to 45mph when I suddenly realised that he had swerved over to the middle of the road.
"I was stabbing at the brakes so the people behind me could see that I was stopping.
"As we came to a halt I came into the rear of the last accident. There were about 15 cars totally blocking the road.
"There was very serious damage to cars and there were people trapped."