Kent youth commissioner replacement to be recruited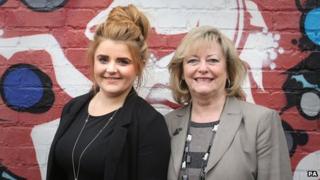 A new Kent youth police and crime commissioner is to be recruited, six months after the first holder of the post resigned over Twitter messages.
Paris Brown was appointed in April but quit over comments she made online before she was given the role.
Kent's police and crime commissioner (PCC) Ann Barnes is to start recruiting her replacement in October.
The successful candidate is expected to receive £15,000 for the year, part-funded from Ms Barnes' £85,000 salary.
The appointment of a youth PCC was one of Ms Barnes's main manifesto pledges in the campaign ahead of her election as Kent's first PCC in November.
'Stupid tweets'
A spokeswoman for Ms Barnes said: "She has to deliver it as part of her promises and is very committed to do so."
Miss Brown was appointed to the youth post on 3 April, when she was still 16, to represent young people across the county.
Kent Police received more than 50 complaints from members of the public about remarks she made online before her appointment, which could be considered racist and homophobic.
The force investigated the Twitter posts but said it did not believe the comments, in context, were grossly offensive on an objective assessment.
Miss Brown apologised for making the "stupid, immoral" tweets when she was 14, 15 and 16, and her lawyers claimed the police investigation was "disproportionate".
The social media history of the new candidates will be scrutinised as part of the recruitment process, according to Ms Barnes' office.