Charles Dickens' Kent home to open to the public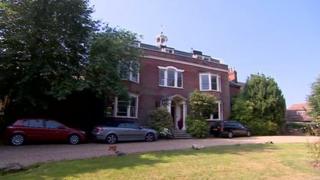 The former Kent home of Charles Dickens will be opened to the public for the first time since his death in 1870, it has been announced.
Gad's Hill Place in Higham has been used as a school since the 1920s but pupils are moving into new buildings.
Head teacher David Craggs said it "wasn't designed for the 21st Century".
Dickens penned classic novels such as Great Expectations and A Tale of Two Cities during his time in the Grade I listed Georgian property.
His study was used by Mr Craggs as his office, while the original living rooms were turned into classrooms.
'Rare honour'
Now, with the completion of the first phase of a multi-million pound project to build two new school buildings in the grounds, one of them - the John Melville Building - has been officially opened by the Portsmouth-born author's great great granddaughter, Marion Dickens.
Spanning two floors, the new school boasts a large sports hall, theatre/concert hall, a dining area, an ensemble and performance room as well as two performance spaces and academic classrooms for kindergarten and junior schoolchildren.
Mr Craggs said thousands of children had had "the rare honour of being able to learn English in what was Charles Dickens' bedroom".
"However, this old building can no longer keep up with the demands of modern day education," he said.
"While I will miss the unique privilege of running a school from the great man's own study, I feel that we have built a new school of the highest quality and standard that the 21st Century can provide, which is only right for our truly outstanding students."
Marion Dickens said she hoped that by turning Dickens' house into a visitor attraction "people that love his books will be able to walk in through his door [and] feel that same magic that actually I always feel."
She said Gad's Hill was "where he wrote, where he lived, where he threw wonderful parties, [and] where his children were brought up".