East Kent hospitals staff parking 'cost to double'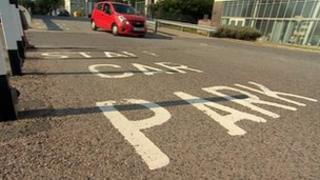 Staff at hospitals in East Kent will see their annual parking pass charges almost double under plans to be introduced next year.
In March, permits for staff in the lowest pay band will raise from £145 to £292 and increase from £182 to £675 for those earning more than £55,000.
East Kent Hospitals Trust said the changes would fund 750 new spaces at its hospitals and promote green travel.
The union Unison claims the increases will hit lowest-paid staff hardest.
Bosses at the trust, which runs the Queen Elizabeth the Queen Mother (QEQM) hospital in Margate, Kent and Canterbury, William Harvey in Ashford, Buckland in Dover and the Royal Victoria in Folkestone, announced the changes following a three-month consultation period.
There is currently a two-year waiting list for parking passes, according to the trust.
'Choose public transport'
Chief executive Stuart Bain, said: "It is well-known that car parking has become an issue for the trust across all groups. Car parking problems are a recurring theme.
"Having put in place improvements for patients and visitors, we have now turned our attention to staff.
"While the new proposals do mean a rise in the cost of a permit, we believe that they will address the long-standing issues staff have highlighted to us. We have to accept that the current facilities were built for a smaller workforce, that improvements cost money and that we need a new system that treats people more fairly.
"We also have a duty as a public sector employer to look at greener travel, and want to encourage more people to choose public transport and other options for getting to work."
Regional Unison officer Simon Bolton said: "Bear in mind all these staff are taxpayers and they've already paid for the NHS once-over. Now they're being asked to pay for the NHS a second time and then being asked to pay to go to work effectively.
"These are staff that need to care for the public in the area, who will be expecting services from them."