Gillingham loses race appeal over striker Mark McCammon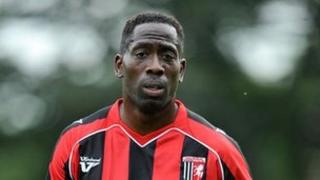 Gillingham Football Club has lost an appeal against a racial discrimination case brought by a former player.
Mark McCammon was awarded £68,000 in August 2012 over his dismissal by the club in 2011. He claimed he was refused treatment and docked wages.
The club lodged an appeal against the ruling it sacked the striker in an act of racial victimisation, saying the case did not look at the main issues.
At a hearing on Tuesday a judge upheld the original tribunal's decision.
Mr McCammon, now 35, said: "It was traumatising and it sort of sabotaged my career in the football world, my progress.
"I had football clubs after me and that just deteriorated. It's very, very unfortunate."
At the tribunal last year he claimed he and other black players at the club were treated differently from white players.
'Very frustrating'
He said the League One club had tried to "frustrate him out" by refusing to pay private medical bills to help him regain his fitness following injury when he still had eight months left on his contract.
He also said he was docked wages when he failed to turn up for training during heavy snow.
Gillingham chairman Paul Scally told BBC South East: "We are confident that we dismissed Mark McCammon for the right reasons.
"It is unfortunate, very frustrating, but people associated with this football club are very well aware of the circumstances around this case and that the club is very much an equal opportunities employer."
In August last year the tribunal heard the alleged refusal of treatment and docking of wages resulted in a confrontation with club manager Andy Hessenthaler.
Snow row
Mr McCammon claimed Mr Hessenthaler, who stood down as manager in 2012, had told him and two other black players to come into the ground amid "treacherous" snowy driving conditions and told them their wages would be docked if they did not, while some white players were told they were not required.
He said Mr Hessenthaler lost his temper after being accused of being "racially intolerant" by ordering the players to come in during the bad weather.
The striker was subsequently ordered to attend a disciplinary hearing and later received a letter saying he had been dismissed for aggressive conduct towards the manager and racism, the tribunal was told.
Mr Scally said after the appeal decision on Tuesday the reference to racism should not have been in the letter and said the tribunal and appeal ruled against the club because of the technicality of the term being included.
Barbados international forward Mr McCammon signed a three-year contract with Gillingham in 2008 and was released three seasons later.
He signed with Conference side Braintree Town in October 2011 and was loaned to Lincoln City the following year.