Keys to Margate's Dreamland handed to council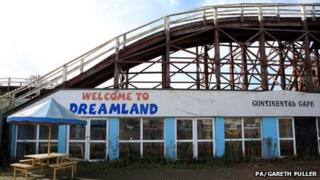 The keys to the derelict Dreamland site in Margate are being handed to the local council and a trust which wants to build a heritage theme park.
Control of the theme park site has formally passed to Thanet District Council (TDC) after a judge backed a compulsory purchase order in May.
The Dreamland Trust said the next step was for surveyors to reassess the site.
But work could be halted if the former landowners, DreamlandLive, win a final High Court appeal later this month.
Dreamland fell into disrepair after it closed in 2006. Its Grade II* listed Scenic Railway ride was damaged in an arson attack in 2008.
'Really excited'
Dreamland Trust manager Jan Leandro said TDC's project to create an amusement park with historical rides, classic sideshows, vintage cafes, restaurants and gardens had taken three years to get this far.
Designer Wayne Hemingway is part of the planning team.
"The designs are as far as we have been able to get them while we have been locked out of the site," Ms Leandro said.
"Once they are finalised and signed off we can start progressing work, so we are really excited."
The council has £10m of funding in place for phase one of the redevelopment, which includes restoration of the Scenic Railway.
Ms Leandro said the trust was confident DreamlandLive's appeal would not affect the plans.
"So far their argument hasn't stacked up in the High Court and we are confident this is just the final hurdle," she said.
DreamlandLive's alternative plans for the site include an amusement park and up to 500 homes.
Chairman Toby Hunter said the company did not believe the council's scheme was viable financially and that it would win the appeal.
"We think the judge didn't understand the concept of viability but we think three senior judges will," he said.
"The council will have to move back off, give us back the site again and we can then do what we want to do with it.
"You need punters in Margate 365 days a year and an amusement park will only get punters there for about 150 days.
"Housing is a cross-subsidy. We were planning 500 units which will put into the local authority's coffers about £500,000 a year in rate money.
"That's a very substantial boost they can put towards education, police and other social needs."