Gravesend tyre blaze investigation continues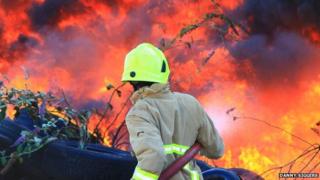 Fire investigators have returned to the scene of a blaze at a tyre yard in Kent, which could be seen for miles.
Smoke billowing from Saturday's fire in Canal Road, Gravesend, could be seen from London, Essex and Maidstone.
Police said a 22-year-old man from Gravesend arrested on suspicion of arson has been bailed until 30 September while inquiries continue.
The owner of a coach and bus company next to the yard which caught fire said 2,000 tyres went up in flames.
Brian Jones said some of his coaches and double-decker buses had been damaged in the fire, which started at about 11:20 BST.
Kent Fire and Rescue Service said at its height, more than 70 firefighters and 12 fire engines tackled the blaze.
The canal basin was evacuated and surrounding roads were closed, but no-one was injured.