Eastchurch barn fire burns through second night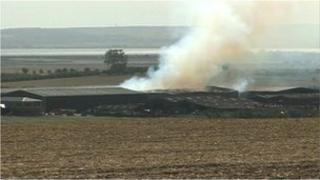 A large barn fire that broke out in a farm in Kent late on Friday has burned through a second night.
The fire at the farm building in Leysdown Road, Eastchurch, started at about 22:00 BST on Friday.
At its height about 60 firefighters were tackling the fire in the barn which contained about 2,500 tonnes of bailed hay.
Two crews and engines remained on the scene on Sunday morning, using hoses to protect nearby farm buildings.
There were no reports of injuries.