Gravesend yard fire: Burning tyres caused black smoke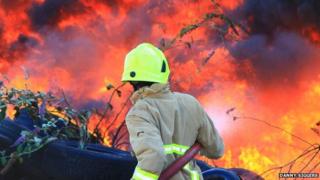 Smoke from a fire in Gravesend which could be seen from London, Maidstone and Essex, came from burning tyres, Kent Fire and Rescue Service have said.
Fire crews have now left the scene in Canal Road but will continue to monitor the area.
The owner of a coach and bus company next to the yard which caught fire said 2,000 tyres had "gone up in smoke" in Saturday's blaze.
Brian Jones said he had been unable to get into his yard to assess the damage.
"We've got a dozen coaches and double-decker buses - we can't get in to ascertain how much damage has been caused," the owner of Brian Jones Coaches said.
'Contained the fire'
The fire started at about 11:20 BST on Saturday. The fire service initially said caravans were alight but later said the fire involved tyres and "other vehicle parts".
Chris Colgan, head of operational services at Kent Fire and Rescue Service, said: "People would have seen huge amounts of black smoke and that's because it was a large quantity of tyres alight in the yard.
"We actually contained the fire to the yard where the fire started, so we were able to protect the surrounding areas and a number of yards adjacent to the fire.
"All of our resources have left the scene. We are conducting visits during the day."
He said crews had initially concentrated on protecting two gas containers which had "caused concern".
"Working with the gas board we were able to confirm that they weren't affected by the fire which then meant that local residents didn't need to be evacuated," Mr Colgan said.
Kent Fire Service said at its height more than 70 firefighters with 12 fire engines tackled the blaze.
Many Twitter uses posted pictures of the fire and plume of smoke and said it could be seen from miles away.