Arrests after gunfire in Ramsgate building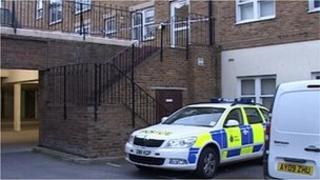 Three people have been arrested after reports of gunfire in a building in Ramsgate.
Armed officers were called to an address in Victoria Road just before 18:30 BST on Friday, Kent Police said.
A cordon was put up in the area and a police helicopter was involved in a search which lasted several hours.
The three men were arrested just before 22:00 and remain in police custody. No-one was reported as being injured, police said.
A police spokeswoman said the men had been arrested on suspicion of possession of drugs with intent to supply.
Les Tucker, who lives in a block of flats on Victoria Road, said: "I was watering the garden when I heard three gunshots. I saw three blokes jump into a car.
"When I was coming back out of the flats, I saw two blokes walking down the road and one was covered in a splattering of blood down the front of him."
Another resident said: "I heard two bangs which I thought were fireworks, then there was a break and then there was a third one."
Kent Police were unable to give any further details of the address or the number of shots fired.