Trapped ditch crash taxi driver survived in air pocket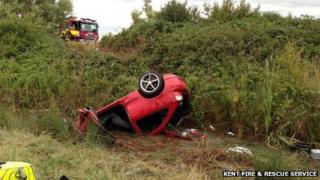 A taxi driver who was trapped in his over-turned car in a water-filled ditch for 14 hours survived by finding a small air pocket.
Mark Beckford, 44, came off the A2070 in Romney Marsh at about 02:00 BST on 13 August, but was not discovered until nearly 16:00 BST that afternoon.
"As soon as the car filled with water I thought I was dead. I found an air pocket but couldn't get out," he said.
He was rescued after a passing lorry driver reported his upturned car.
'Spun out of control'
Mr Beckford recalled how he had seen a fox while driving home from work in the early hours, and swerved his car to avoid it.
However, it spun out of control, into the ditch.
When the emergency services came to his aid after being called by the lorry driver, they found his car upside down with water up to the bumper.
"I don't remember getting out of the car," Mr Beckford said.
"I didn't have long left.
"My body had already virtually shut down, so I was lucky they found me and got me out when they did otherwise I wouldn't be here today."
He was rescued from the rear of the car by firefighters who used hydraulic cutting equipment to release the hatchback door before winching the vehicle partially up the bank.
He was treated at the scene by paramedics and a doctor before being taken to the William Harvey Hospital in Ashford where he stayed for 10 days.