Dartford station building opens to passengers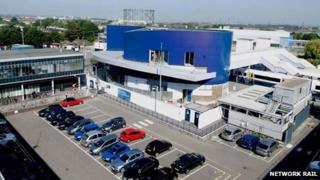 A new railway station building has opened as part of a £7m project due to be completed in November.
The work on Dartford's station building, which began in June, has been necessary to handle increasing passenger numbers, Network Rail said.
Further work will see improved lighting, larger canopies over some platforms and better waiting facilities, a spokesman said.
The next phase will see additional car parking and storage for cycles.
Railway buildings next to the station are to be demolished.
Councillor Jeremy Kite, leader of Dartford Borough Council, said: "I know that local passengers have put up with a lot during the building of our new station but now it's here, I hope that it will seem worthwhile.
"It's a modern, well-equipped station which the town has been waiting for and deserves."
About four million journeys are made to or from the station each year, Network Rail said.
The work has been funded by £6m from the Homes and Communities Agency and £1m from National Station Improvement Plan.