Farnham town centre: Government approves compulsory purchase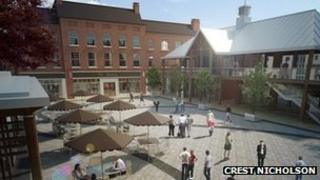 The redevelopment of Farnham town centre has moved closer after the government approved two compulsory purchase orders allowing work to begin.
Waverley Borough Council said preparatory work on the Brightwells area will begin in September.
The government has confirmed a compulsory purchase order for the Marlborough Head pub and the removal of two public footpaths.
The scheme includes a town square, cinema, shops and 239 homes.
It was originally approved in 2008 but was delayed after protesters objected to the loss of the theatre, increased traffic and the loss of trees and historic features.