Half of A&E Medway and Darent waiting times miss target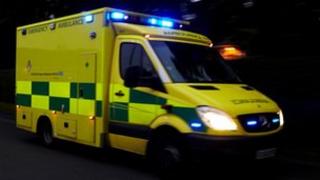 Two Kent hospitals have been criticised for the length of time it takes ambulance crews to hand over patients at Accident and Emergency.
From April to July this year, just over half of patients waited longer than the 15-minute target at Medway Maritime Hospital. At Darent Valley, it was 47%.
Gravesham council leader John Burden said it was unacceptable.
Darent Valley said it was working with ambulance trusts to minimise delays. Medway Maritime did not comment.
NHS England's target is for handovers from ambulances to A&E to take place within 15 minutes.
Fines of £200 can be imposed for delays over 30 minutes and £1,000 for delays of over an hour but local clinical commissioning groups have not yet imposed them.
South East Coast Ambulance Service (Secamb) figures show that 51% of the 11,000 patients arriving by ambulance at Medway between April and July waited more than 15 minutes.
The longest time a patient waited at Darent Valley was three hours and 55 minutes, while at Medway it was three hours and 24 minutes.
'Fairly calm period'
Mr Burden said Darent Valley had been under pressure since the closure of Queen Mary's A&E department in Sidcup.
"They have got to do something about it. They have got to increase resources to make that time lower," he said.
"It is just not acceptable for local people."
Unison spokesman for Secamb, Bryan Hopperton, said the union was concerned that the figures relate to a period which should be "fairly calm".
He said problems had been caused by the troubled 111 non-emergency phone service, cuts in social care for the ageing population and a lack of provision to treat people in their homes.
"The hospitals are under extreme pressure and it's either a lack of beds or a lack of doctors and nurses," he said.
"It is simply the fact you've got a funnelling effect in that everybody is going in through A&E.
"It comes back to investment."
Secamb said there were times when the NHS was extremely busy and delays could occur.
"We work closely with hospitals to ensure this time is kept to a minimum," it said.
Darent Valley said it kept an audit of ambulance waits.
"All patients coming into the emergency department by ambulance are assessed by a nurse or doctor within 15 minutes of arrival and any necessary treatment commenced," it said.
"Sometimes, due to a high volume of acutely ill patients arriving in the department, a trolley may not be immediately available.
"The ambulance crew will then stay with the patient to maintain their safety until a trolley becomes available.
"We apologise to patients who have experienced delays in being transferred."