Medway mental health bed closures referred to health secretary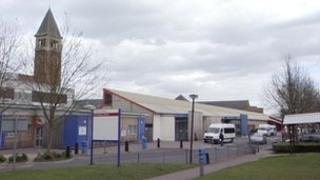 Plans to close acute mental health beds at Medway Maritime Hospital have been referred to the health secretary.
The proposals would see in-patient facilities at the hospital in Gillingham shut and more beds in Canterbury, Maidstone and Dartford.
Councillors said they were concerned the plans were not in the best interests of patients.
The trust that runs mental health services in Kent said it was "extremely disappointed" with the decision.
The decision to refer the matter to Health Secretary Jeremy Hunt was made at a meeting of councillors on Medway's health committee on Tuesday night.
The Kent and Medway NHS Social Care Partnership Trust (KMPT) wants to close A Block at Medway Maritime Hospital.
The plans would leave Medway with no acute mental health provision.
'More problems'
But councillors said they were unconvinced alternative facilities cannot be provided in the area.
Wendy Purdy, Conservative, the lead councillor for Medway on the joint Kent and Medway health overview and scrutiny committee, said the area needed more beds and not fewer.
"If we don't get it right this time, I think we're just storing up more and more problems," she said.
Labour councillor Theresa Murray said she wanted mental health patients in the area to have access to a "recovery house".
"Too many people end up in an acute bed because they don't get the treatment and support they need before they get into a crisis," she said.
"One of the things that's been proposed is setting up a recovery house in Medway - a place where people can go to get expert advice and support when they feel a mental health crisis coming on, before it gets to an acute situation."
KMPT and NHS Commissioners said the plans would increase the number of acute beds from 160 to 174.
Ian Ayres, chief officer for West Kent Clinical Commissioning Group, said: "We are very disappointed by the decision and extremely concerned about the conditions on A Block in Medway Hospital.
"This was something that all stakeholders agreed upon unanimously during the consultation."
He said patients needed to be moved to better accommodation "as soon as possible".
"The Keogh report on Medway NHS Foundation Trust, increases the requirement for firm plans to be swiftly delivered," he said.
"The Kent and Medway NHS and Social Partnership Trust are confident that these proposals could have been achieved safely and successfully in less than 12 months."
Last month, Medway NHS Foundation Trust was put into special measures after a study by Professor Sir Bruce Keogh highlighted fresh concerns in the standards of care at the hospital.
The trust came under scrutiny because of its higher than average death rates.