Canterbury's revamped Beaney museum has 500,000 visits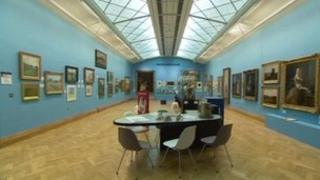 Half a million people have visited a Kent museum since it reopened a year ago following a £14m refurbishment.
Extension and restoration of the Beaney art museum and library doubled the size of the building and created new library, museum and gallery spaces.
Canterbury City Council said there had been more than 110 events in 12 months.
Exhibitions included work by Henry Moore and Anthony Browne, and activities such as drawing, sculpting and stained glass window-making.
Councillor Georgina Glover, cabinet member for museums, said the public had given "a major thumbs-up" to the new Beaney museum.
This year, the museum was shortlisted for the Art Fund Prize and the Clore Award for Learning.
It won the 2013 Collections Trust and Historypin award, and it also won the Cultural Landscape Award at The Canterbury for Culture Awards 2013.
The museum was also commended in the Civic Trust Awards 2013.