Service for RAF airman Baron Jean De Selys-Longchamps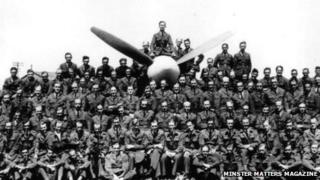 An historic service of commemoration has been held on the 70th anniversary of the death of a Belgian RAF fighter pilot during World War II.
Baron Jean de Sélys-Longchamps was killed when he crash-landed at Manston in Kent on 16 August 1943, aged 31.
Some of his relatives attended the two-hour service at Minster Cemetery in Thanet, where he is buried.
It was organised by Belgian organisation Wings of Memory in its first memorial service outside Belgium.
Wings of Memory was started in 1997 after its founders decided that not enough was being done to preserve the memory of the WWII aircraft crashes for future generations.
Wreaths laid
It honours fallen airmen by erecting monuments and organising commemorations and has made contact with relatives of lost Belgian servicemen around the world.
Baron de Sélys-Longchamps, a grand-nephew of King Leopold III, was born in Brussels 1912.
He was involved in the fighting on the Scheld-Meuse Canal, the Leie and at Lanaken when the Germans invaded Belgium.
He escaped from a prisoner of war camp in Marseilles and arrived in England where he forged his papers in order to be trained by the RAF as a fighter pilot.
At 28, he was too old to be admitted.
He completed his training and earned his wings on 16 January 1941.
The serviceman died while flying a mission over Ostend, when his aircraft is thought to have been hit by German flak.
The plane crashed at Manston and he was killed instantly.
The service saw wreaths laid at his grave, and another wreath laid at the village War Memorial to commemorate the other war veterans buried there.