Parents left 'with no respite' after Dover special needs club closure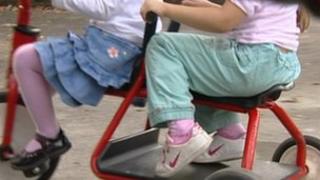 Parents of children with special needs have been left without respite after a club for them was pulled, a mother has claimed.
Sarah Bennett, whose son has attention deficit hyperactivity disorder (ADHD), said Kent County Council (KCC) had failed to replace the service in Dover.
The authority said it had commissioned a provider who pulled out in July as it could not find the appropriate staff.
It said it was working with parents to find out how their needs could be met.
It comes as figures obtained by BBC Radio Kent show that the number of children prescribed drugs for ADHD in Kent has risen by more than 50% in four years.
During 2012, the highest number of ADHD drugs in England were prescribed by the Primary Care Trust in Norfolk (27,515) followed by West Kent (22,325) and Surrey (22,281).
'Undervalued service'
Ms Bennett, from Deal, said her son Harry stopped attending the club after the council's contract with Kids Club, the provider, ended on 31 March.
"He would meet with other children who had the same problems as him, he could socialise, he could learn," she said.
"It gave myself, my husband and my daughter especially three hours' respite a day.
"KCC in their wisdom decided that it was an undervalued service and they decided that they would withdraw funding.
"We were assured at the time that other things would be put in place that were equal or even better than what we were being provided with.
"Unfortunately that wasn't the case, after many meetings with KCC, we are still without any kind of service."
In a statement, the council said: "The contract with Kids Club was not renewed due to concerns over the services provided and KCC has been working with parents of disabled children to find out how their needs can be met.
"There are clubs for children with less complex needs, such as the Weekend Fun Club Services run by Voluntary Action and the Be Our Buddy scheme."
The spokeswoman said the authority was also finalising arrangements for a monthly specialist Saturday club in the Dover area.
"KCC had commissioned a summer holiday scheme but the provider pulled out shortly before the summer due to staffing issues," she said.
"We are holding a series of meetings with parents to develop the services on offer locally, including summer holiday activities for 2014."