Ashford 'worst recycler' council hit by new complaints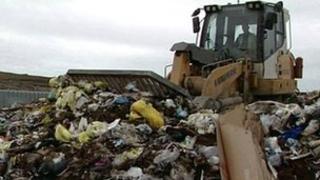 A Kent council named as having the worst recycling rates in England has received hundreds of complaints about its revamped service.
Ashford Borough Council started weekly food waste and fortnightly recycling and refuse collections on 8 July.
Residents have complained bins were not delivered or collections not made on the advertised days.
Jessamy Blanford, cabinet member for environment, said she hoped issues would be resolved this week.
'Full of maggots'
The changes to refuse collections and recycling were made after the Department for Environment, Food and Rural Affairs (Defra) named and shamed Ashford as the worst recycler in the country in 2012, for the third year in a row.
Ashford recycled 14% of household waste, compared with a national average of 43%.
The Rev Philip Cox, of the G7 Benefice in west Ashford, said one parishioner complained that a food bin collection was three days late in the heatwave, which meant the bin was full of maggots.
"If you are going to have a collection like this on a strict timetable you've got to keep to it," he said.
"I think that it wasn't properly thought through.
"It's a very big scheme - I would have personally brought it in a few villages at a time and made sure it worked properly, then expanded it."
'Stockpile of waste'
The council has had to deliver 200,000 bins to 50,000 households.
It said the new service would take its recycling rate to 37% by 2014/15.
Its website said many residents put out a stockpile of waste from before the new service began and trucks had filled up faster than anticipated, causing a knock-on effect on the collection schedule.
Conservative Ms Blanford said there were now very few households without the correct bins.
"I hope by the end of this week that will be resolved, so then we need to make sure that everybody is on the collection routes as well," she said.
"We are working very hard.
"We have got a very good team here and we have roped in a lot of extra people."