Kent Police decision to put mentally ill man in cell probed by IPCC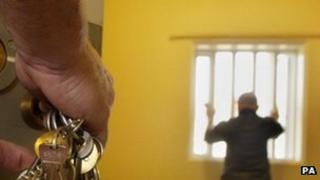 The decision by Kent Police to put a mentally ill man in a cell rather than take him to hospital is being investigated by the police watchdog.
The 40-year-old was found in Medway's custody suites with a t-shirt tied round his neck and not breathing.
The custody sergeant was told beforehand that he had taken a suspected overdose and had mental health issues.
The man was taken to hospital and later returned to custody.
The Independent Police Complaints Commission (IPCC) said Kent Police told it that on 11 July, officers were called to an address in Gillingham where the man was believed to have taken a suspected overdose.
He was treated by paramedics, but refused to be taken to hospital and was arrested on suspicion of assault.
The man was then taken to the custody suite where he was later found in a cell with the t-shirt round his neck, and taken to hospital.
He was declared fit for detention and interview in hospital and was returned to police custody.
Voluntary patient
On 12 July, the man was interviewed, charged and released on bail, the IPCC said.
The next day, the organisation said, it was told that officers found the man unwell at his home following reports of concern for his welfare.
He was taken to hospital again and is now a voluntary patient on a mental health ward, the IPCC said.
Kent Police referred the case to the watchdog on 15 July, two days after the man was taken to hospital.
The delay forms part of the IPCC's inquiry.
Mary Cunneen, the watchdog's commissioner, said IPCC staff had met with the man to outline the investigation.
"This will focus on the actions taken and decisions made by the arresting officers and custody staff in their dealings with the man and the circumstances of his release and the pre-release risk assessment," she said.
"Actions and decisions taken in relation to the man's mental health and the disclosure of a prior overdose are also being examined.
"The IPCC is also considering whether Kent Police's policies and procedures in relation to policing mental health, detention in custody and any other relevant procedures were followed."
Kent Police said the man was charged with assaulting a police officer in the execution of his duty and released on bail to appear in court on 9 August.
"The matter was referred to the IPCC, which is conducting an independent investigation into Kent Police's actions," the spokeswoman said.