Doctor Who convention for disused Ramsgate concert hall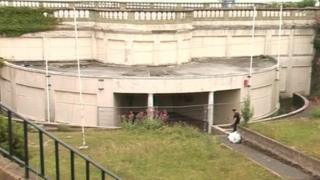 A Doctor Who convention organised by a former Doctor's companion has raised about £20,000 for a campaign to help restore a derelict concert hall.
Janet Fielding, who played the Doctor's companion in the 1980s, said she wanted to bring "back to life" the building in her home town of Ramsgate in Kent.
West Cliff Hall opened as a concert venue in 1914. It later became a motor museum before closing in 2005.
Many 1960s groups played at West Cliff, including The Rolling Stones in 1964.
Project MotorHouse is hoping to raise £5m to redevelop the site into a venue for the arts.
Ms Fielding said: "I was thrilled people turned out for the charity.
"The MotorHouse could help transform Ramsgate and I think it's lovely that people like something that's quite ambitious.
"We are about to go in to find out how much it is going to cost to fix the frame, because the MotorHouse holds up the first 40m of the West Cliff promenade and it's a steel frame with concrete in-fill."
Twelve former Doctor Who companions, including Ms Fielding, who played Tegan alongside Peter Davison's Doctor, were at the convention in support of the charity.
Davison, who played Doctor Who from 1981 to 1984, was also there.
"It's always lovely when we all get together," Ms Fielding said.
In January, a Doctor Who benefit convention, with stars including former Doctors Davison, David Tennant, Colin Baker, Sylvester McCoy and Paul McGann, raised more than £31,000 for the campaign.
The concert hall, which is sunk into the cliff, was built in 1914 on the site of Victorian gardens and a bandstand.
As an entertainment hub, it would have a cinema, theatre and restaurant. It would also support a youth development programme for young people.
Award-winning actress Brenda Blethyn is also a supporter of the plans.