Public have say on Kent Downs' future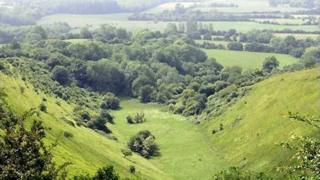 A public consultation has begun on how an Area of Outstanding Natural Beauty (AONB) which covers 340 sq miles (880 sq km) of Kent is to be managed.
The Kent Downs runs from the Surrey/Bromley border to the White Cliffs at Dover and includes ancient woodland and chalk downland.
The new five-year draft management plan aims to address key issues and threats to the protected landscape.
The public consultation runs until 27 September.
Nick Johannsen, Director of the Kent Downs AONB, said: "There are great pressures on the landscape and, at the same time, real opportunities to secure its conservation and enhancement.
"That is what the new draft management plan is all about, seizing the opportunity to care for this wonderful landscape for the future."
As well as covering all of the Kent part of the North Downs, the AONB includes areas of the Greensand Ridge around Sevenoaks, the Lympne escarpment near Folkestone, and small areas of the Romney Marsh.
The landscape of the Kent Downs is more than 100 million years old, but its national significance was formally recognised on 23 July 1968, when it was designated as an AONB.
"We hope that people living in the Kent Downs and those who value and enjoy it will get involved in feeding back on the draft plan," Mr Johannsen said.
The draft plan is available for comments on the Kent Downs website.
After discussion with local authorities the final plan is expected to be published in early 2014.