Two held after West Kingsdown petrol station worker hurt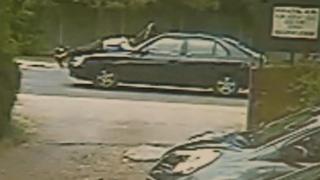 Two people have been arrested after a man was seriously injured trying to stop suspected petrol thieves in Kent.
Lekshmanan Asokkumar, 58, was carried half a mile down the A20 London Road from the Texaco garage in West Kingsdown on a car bonnet on Wednesday.
He eventually fell off the car, and was taken to King's College Hospital in London in a critical condition.
A 19-year-old man and a 16-year-old girl were arrested in Chatham on suspicion of attempted murder.
Mr Asokkumar's wife, Judie, said on Friday that he was out of critical care, and showing signs of response.