West Kingsdown petrol thieves' actions 'despicable'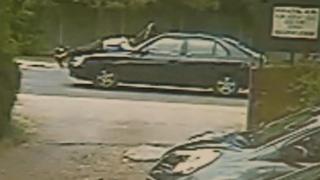 The actions of suspected petrol thieves who left a man for dead were "despicable", the victim's wife has said.
Lekshmanan Asokkumar, 58, tried to stop a car from leaving the Texaco garage in West Kingsdown on Wednesday.
He was seriously injured after being carried half a mile down the A20 London Road on a car bonnet before he fell to the ground, Kent Police said.
His wife, Judie, said the perpetrators were "the lowest of the low".
She said: "Hopefully somebody will see this on the news and in the papers and know who these people are and report them.
"Or, if not, maybe they'll get a guilt complex and give themselves in.
"Because at the end of the day they could have killed my husband, the father of two children, and I think it's despicable."
'Serious injury inevitable'
Det Ch Insp Jon Clayden said: "The driver of that vehicle had ample opportunity to stop.
"The length of the journey between the service station and where this gentleman was thrown off is significant.
"The inevitable consequence of him being dealt with in that way is that he is going to sustain serious injury."
Officers believe Mr Asokkumar was trying to prevent the car from leaving after it was filled with fuel at about 14:15 BST.
Police said the car, which did not stop, was a dark-coloured small saloon vehicle, and it is thought a man and a woman were inside.
Mr Asokkumar remains in a critical condition in King's College Hospital, London.