Gravesend feral mare and foal found dead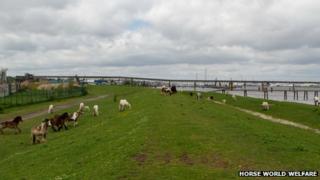 A mare and her dead foal have been found in a field in Kent that is home to more than 100 feral horses.
World Horse Welfare said the mother had to be put down after she gave birth to the dead foal in the eight mile-long field in Gravesend.
A welfare officer from the charity said she was often called to the location on the Saxon Shore Way by concerned members of the public.
She said the number of horses in the field was increasing.
Fly grazing
In June, the charity joined forces with Redwings, the RSPCA, the British Horse Society, Blue Cross and HorseWorld to release a report warning of a "horse crisis" in the the UK and Wales.
They said they had identified 7,000 animals that were at risk of not being cared for properly due to factors including the economic crisis, overbreeding, and fly grazing.
The organisations say that fly grazing has increased "massively", with owners dumping their horses on land with good grazing for free.
They are calling on the government to deal with the numbers of horses being imported and abandoned and what they call "the lack of control in the passport system".
All horses must hold a passport showing details of its identity and the veterinary medicines it has received, and foals need to be microchipped.
Broken pelvis
Speaking of the mare and dead foal, World Horse Welfare officer Alana Chapman, said: "It was a very hot day and she must have been so incredibly uncomfortable with no one to care for her.
"Once the vet had checked her, we found that she had a broken pelvis, so we had to put her to sleep to end her suffering."
She said it was another example of horses "being left to indiscriminately breed without proper care".
Ms Chapman said none of the horses in the field had microchips or passports, so there was no way to take action against their owners.