Folkestone seafront 'renaissance' plans approved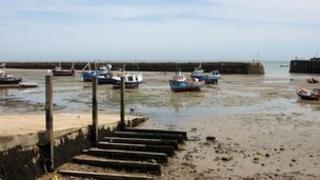 Plans by leading architect Sir Terry Farrell to redevelop Folkestone seafront in Kent have been approved.
They include 1,000 homes, restaurants, shops and sports facilities on a 23-hectare site which includes the harbour and the old rotunda funfair.
"I'm enthusiastic - this has near total support of the people of Folkestone," said Philip Carter, president of campaign group Go Folkestone.
Shepway DC leader David Monk said it would "mean everything to Folkestone".
Folkestone Harbour Company (FHC) said it was a landmark for the town.
Sir Terry was commissioned by former Saga boss Roger De Haan who owns the harbour, the Rotunda site and derelict former ferry port.
Mr Monk said five years' work had gone into the plans, which included provision for infrastructure such as transport and health care for residents.
"The creative quarter is starting to bring a new vibrancy to the town and with HS1 (railway) bringing new people in this will be a true renaissance.
"As the first railway came and Folkestone was built this will have the same effect for the next 100 years."
He said the development would take place in five phases over the next 20 to 25 years.
FHC said the next stage was to find potential developers who would be attracted by the seafront's potential.
"I can't think of anywhere else on the coast of England with an undeveloped site in single ownership with planning permission so I am sure a developer will be found," said manager Trevor Minter.
"This next stage will be largely driven by the prevailing economic climate, and in particular the strength of the housing market."
Only one councillor voted against granting outline planning permission.