Kent knife crime up by almost 20%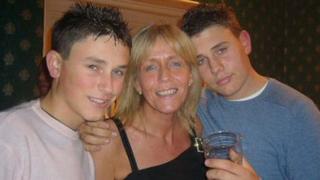 Recorded knife crime in Kent has risen by nearly 20% in a year, figures obtained by BBC Radio Kent have shown.
More than 400 knife crimes were recorded between April 2012 and March this year.
More than 1,000 knives were seized by Kent Police during the same period.
Ann Barnes, Kent's Police and Crime Commissioner, said she thought the 20% increase was down to more prosecutions, and not necessarily a rise in knife crime.
Sally Knox's son Rob, 18, an actor in a Harry Potter film, was stabbed and killed in Sidcup, south London, in 2008.
Ms Knox, who campaigns against knife crime, said: "I speak in schools all of the time in London and in Kent and I ask the classes 'put your hand up if you are aware or know of anyone who carries a knife'.
"In general, I would say around 50% of young people are aware of someone that carries one.
"Young people seem to think they can carry a knife for protection - I tell them that 60% of people that carry a knife get wounded by their own knife.
"But I think the thing is not to target the knife carriers, it's to target the other kids that are aware of them."