James Bond writers honoured by University of Kent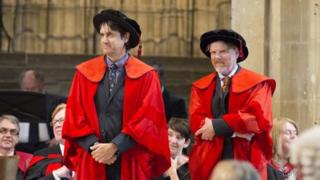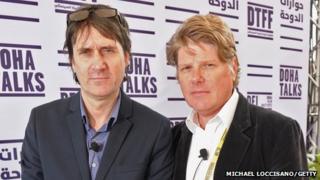 From university in Kent to the glamour of James Bond, Neal Purvis and Robert Wade have remained firm friends and a highly regarded screenwriting team.
Now they have returned to their student roots to receive honorary degrees.
The duo have co-written the screenplays of the last five Bond films - from Die Another Day to Skyfall - among others.
And they were together again when University of Kent deputy vice-chancellor Keith Mander presented them with honours to reflect their success.
The pair met on the Canterbury campus, where they shared a room for the first term of the academic year 1980-1.
Bunk-beds mates
Mr Purvis's stay was short-lived. He realised he was less suited to the philosophy course he had embarked upon than the more attractive film studies on offer at the then Polytechnic of Central London.
His room mate, meanwhile, stayed the course and graduated with honours in 1983 in film theory and English.
But in that short time together, in bunk beds at Eliot College, they struck up a rapport that was to extend well beyond their student days, culminating in a collaboration that has stood the test of time - and professional scrutiny.
Mr Purvis said: "We were put in to share bunk beds at the university, so that's how we met.
"You get to know someone quite well when they're above you or below you and stayed friends ever since."
Prof Simon Thompson, who read the oration at the pair's honorary degree ceremony, said: "Robert was in the very first cohort of film studies students [at Kent].
"Things were very different then. The university was that much smaller - about 3,000 students - whereas there are about six times that now.
"It was a very tight-knit group. He is still in touch with some of those who were on that course."
'Stand-out' character
The duo also played in a rock band on campus.
"They used to practise in the launderette [in Eliot College] because it had really good acoustics," added Prof Thompson.
Although their student days were brief, the pair later shared a house in London, forming a screenwriting partnership that produced several films, including Let Him Have It and Plunkett & Macleane.
They went on to further success with the Bond quintet The World Is Not Enough, Die Another Day, Casino Royale, Quantum of Solace and Skyfall.
Prof Thompson added: "One of the lecturers, John Ellis, described Robert as a stand-out character with a ready wit and discerning smile.
"They are both very engaging characters, very ego-less."
And they have retained their link with the university, returning recently to give a presentation to the current film studies school.
Their honorary degrees are recognition of that link and of their contribution to British film industry.