Quarry extension into Oaken Wood approved by government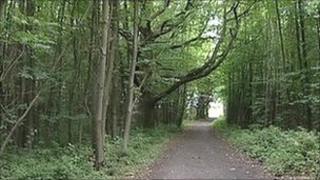 An application to extend a quarry into ancient woodland in Kent has been approved by the communities secretary, following a public inquiry.
Eric Pickles gave Gallagher Aggregates permission to extend its Hermitage Quarry into Oaken Wood, near Maidstone.
But the Woodland Trust claims that 32 hectares (80 acres) of ancient woodland will be lost.
Mr Pickles said the rules allowed for circumstances where loss could be outweighed by other considerations.
Ancient woodland is land that has been continuously wood since 1600, providing a home for many species of animals and plants.
'Greenest government'
Sue Holden, chief executive of the Woodland Trust, said: "This is a landmark decision for all the wrong reasons.
"This so-called 'greenest government ever' stated that the national planning policy framework would give sufficient protection to irreplaceable habitats such as ancient woodland. It clearly does not.
"We are extremely concerned now that this outcome could define the level of protection given to ancient woods and indeed all irreplaceable habitats in all future planning decisions across England."
Granting permission, Mr Pickles said most of the site consisted of more recent plantation, with no veteran trees.
Government agency Natural England did not consider the loss of ancient woodland to be sufficiently important to urge ministers to call in the application for consideration, he added.
Mr Pickles said there was a very considerable need for both crushed rock aggregates and stone.
He said that eventual improvements to the environment and economic benefits of the quarry extension "would clearly outweigh the loss of the ancient woodland and the other adverse effects of the development in this case".
A spokesman for the Department for Communities and Local Government said: "This planning application for an extension of an existing quarry was supported by Kent County Council, local MPs and English Heritage."
Gallagher's chief executive, Nick Yandle, welcomed Mr Pickles's decision and said failure to grant permission would have meant the end of extracting Kentish ragstone at the Hermitage Quarry site, with consequences for jobs.
"Everybody acknowledges that it is sweet chestnut coppice planted 150 years ago," he said.