Inquiry call over £3.4m TransEuropa Thanet debt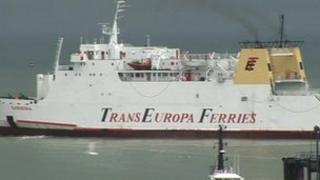 There have been calls for an independent investigation into how a council allowed a passenger ferry company to accrue a £3.4m debt.
Independent and Green Party members of Thanet District Council will submit a motion to the hung council later.
The debt, made up of waived port fees came to light after TransEuropa went into administration.
Green councillor Ian Driver said the deal was kept secret, but the council said it was commercially sensitive.
Mr Driver said: "The main problem is that this deal was kept secret from the vast majority of councillors for three years. Only a handful of very senior officers and political leaders knew about it.
"If the deal had have been made public to councillors well before now, then it's extremely unlikely that we would be dealing with a debt for £3.4m."
Mr Driver said it was "nonsense" the information had to be kept secret, because confidential reports were released to members every day.
'Duty of care'
Council chief executive Dr Sue McGonigal said the decision was taken to provide temporary support for the ferry business after talks between TransEuropa and the authority.
She said the council rescheduled the payment of port fees on the basis the money would be repaid by the end of 2014-15.
"If the council had not assisted by rescheduling their debts, TransEuropa would have been forced into administration, and this would have left the Port of Ramsgate without a ferry service," she said.
"Without this, the council would have faced exactly the same loss of income and impact on its budgets, and would have also contributed to jobs being lost in the local area."
Dr McGonigal said the information could not be shared because the council had "an absolute duty of care".
She said: "Releasing this information would have fundamentally harmed the trading position of TransEuropa, leading to their immediate failure and leaving the council in no better financial situation."
The debt has been lodged with the administrators.