NSL Care Services apology for 24-hour patient wait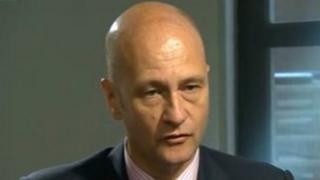 A disabled woman was left waiting for more than 24 hours to be taken home from hospital by a private firm.
Leigh Brown said her mother Liesha Roberts, 59, who has limited mobility, was "really upset" by the incident.
NSL Care Services started running Kent and Medway's non-emergency patient transport system 10 days ago.
Managing director Alastair Cooper said he was "deeply sorry" to everyone who had been let down, and that the firm was working to improve services.
The company, which used to be part of the car park firm NCP, is responsible for transporting people to hospital for appointments.
Mrs Roberts was admitted as an in-patient at Medway Maritime Hospital and was due to be taken home on Wednesday afternoon.
Ms Brown said that the pick up time was later changed to 09:00 BST the next morning.
'Unforeseen challenges'
She said her mother was eventually collected at 18:30 BST on Thursday.
"It took me phoning the head office and being on the phone on and off between 12:00 BST and about 16:30 BST for them to collect her," she said.
"My mother was really upset... she spent most of Wednesday night sobbing and then crying on and off on the Thursday."
NSL said the "unsatisfactory service" had been due to "unforeseen challenges".
"This level of service was far below the level to which we aspire and fell far short of what we provide to our patients in other areas," the statement said.
"On the very first day, as soon as it became clear that there were problems, we started work with commissioners and the provider trusts in Kent and Medway to improve the service for patients.
"We are confident that this unacceptable first week will soon be behind us, and that our patients in Kent will soon experience the same high standards that we deliver elsewhere".
Alastair Cooper, the firm's managing director, added: "The first thing I'd like to do is extend my most sincere apologies to everyone we've let down, particularly in the first three days of the contract going live.
"This is non-emergency transport but we realise that when it doesn't go right, it has a massive impact on the quality of people's lives.
"We're deeply sorry to everyone we've let down during that period."
In June 2012, patients in Lincolnshire complained that they were forced to pay for taxis to get to hospital following problems with NSL's transport booking system.
The Derby Telegraph reported similar issues in March this year.
NSL apologised to the patients.