Kent children's centres earmarked for closure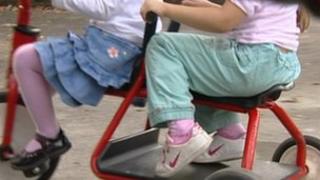 Up to one quarter of children's centres in Kent could close in a cost-cutting exercise.
Kent County Council (KCC) is proposing to close 23 out of 97 centres, many in rural or semi-rural areas.
"We have made a specific pledge not to close any centres in areas of high deprivation like Thanet," said Conservative Councillor Jenny Whittle.
But leader of KCC Labour group, Gordon Cowan, said deprived areas of his Dover constituency would lose centres.
Mr Cowan said: "This is a sad day for Kent. In my area alone - St Radigunds and Tower Hamlets, the most deprived area within the county and possibly the country - centres are going to close.
"Other areas like Bromley and Medway are not closing children's centres, so why on earth do we have to do it in Kent where we have got some of the most vulnerable families around?"
'Real tragedy'
Chief executive of the Child Poverty Action Group, Alison Garnham, said children's centres, which were set up by the Labour Government, had become a "vital lifeline" for families.
They provided early intervention for families, putting them in contact with services and providing childcare.
"It is a real tragedy to hear about this happening in Kent," she said.
"They have become a bit of a one-stop shop for the things that you need as a new parent and since they have opened up we have seen a massive increase in the numbers of single parents who have been able to work."
KCC said savings had to be made in the current economic climate.
The closures would allow more focused spending, while reducing costs for buildings, management and other overheads a spokesperson said.
In future there would be 16 lead centres in communities where more families needed early support, which would work more closely with GPs, schools, health visitors, childminders, nurseries, health and social services and the voluntary sector.
"We will be left with a very strong children's centre network," said Ms Whittle.
"The usage of the centres we propose to close is either at a low level or the majority of users are also using another children's centre nearby which we do not propose to close."
A 12-week consultation period on the closures is now under way.