Traffic fines raise £7m for Kent councils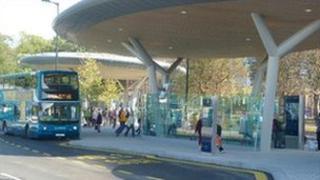 Councils in Kent have netted almost £7m from traffic fines, figures obtained by the BBC show.
The highest takings were in Medway with £1.7m last financial year, up from £1.4m in 2011/12.
In Thanet, the total was £167,000 - up by a third last year compared with the 2011/12 figure.
Revenue from fines fell in eight of 13 areas in Kent, and rose in the remaining five. Dartford saw the biggest fall, at 16%.
Medway Council said the rise in its area was solely due to a camera that was installed at Chatham bus station in April last year to catch people driving through it.
Alan Poole, deputy leader of Thanet District Council, said the increase in the area was due to better enforcement by wardens.
"We get lots of complaints about parking, especially outside schools, hospitals and supermarkets," he said.
"We have targeted some of these areas because it's, quite frankly, dangerous for people to park there."
'Huge effect'
Some traders in Thanet said the increase in penalty charges could be related to a change in parking restrictions.
Robin Vaughan-Lyons, who runs a charity shop in Margate, said: "The hours for when you have to pay for parking have been extended.
"It used to be, as far as I can recall, 09:00 until 18:00 in Margate High Street Monday to Saturday, it's now 08:00 until 22:00, seven days a week.
"That's had a huge effect because either they come here, go to the Turner [Contemporary gallery] and go away, or they just won't park here in the first place at all."
Mr Poole denied that the parking restrictions were damaging business.
"I've never seen the high street empty," he said.
"Our charges are there to encourage people to do their shopping, move on and let somebody else shop.
"We need to get a turnover on the high streets."