Manston Airport bosses confident of KLM future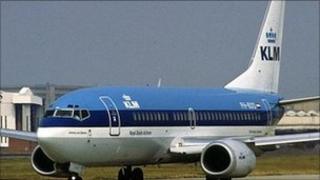 Bosses at Manston Airport have said they are confident that a new passenger service to Amsterdam has a future.
It comes after passengers said they had travelled on KLM planes that were less than half full.
The Dutch carrier started twice-daily flights from East Kent to Schiphol three months ago.
Charles Buchanan, Manston's chief executive, told the BBC that the new service was a success.
"We have some flights that are less full than others obviously, but we've had others that are absolutely jam-packed and not a spare seat to be had," he said.
"That's the normal way of aviation - you get some that are full and some that are less so.
"We're confident that the service has a future.
"This is a growing service, the forward bookings are coming in at a good rate."
KLM started running two morning flights from Manston, with one returning in mid-morning and the other in the evening starting on 2 April.