Graeme Lothian: Shot Kent war artist recovering at home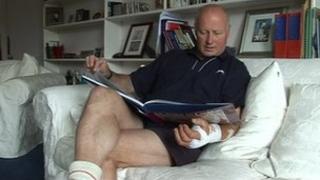 A war artist shot by a Taliban sniper in Afghanistan is recovering at home in Kent after three operations for injuries to his left arm and hand.
Ex-paratrooper Graeme Lothian, 53, of Tunbridge Wells, was shot on 16 June.
He was airlifted to a military hospital in Birmingham, and is now waiting to find out whether his injuries will threaten his ability to paint again.
Mr Lothian, who is left-handed, said doctors thought he would get most of the feeling back but may have to adapt.
Recalling the shooting, he said the bullet probably came through his arm, and then through the palm of his hand, before hitting a nearby Fijian soldier in the buttocks.
'Extremely positive'
"My arm just dropped straight down and there was blood all over my trousers and on to my boots.
"But the first thing I thought was to get away from there, so I just jumped behind the mastiff [an armoured patrol vehicle] and waited for the medics to arrive," he said.
Mr Lothian, who has been an official war artist for more than 30 years, said he had no regrets about going to Afghanistan.
His partner, Sameena Shakoor, said he was "extremely positive" given the impact his injuries could have on his life.
"It's a disaster because it's his left hand and I know that his life is his painting.
"I can't imagine him going through a day not painting," she said.
After he was attacked, Mr Lothian had initial surgery in Afghanistan.
He underwent a further operation at the Queen Elizabeth Hospital in Birmingham three days later, before another procedure to put a plate on to broken bones in his hand.