East Kent campaigners oppose National Grid pylons link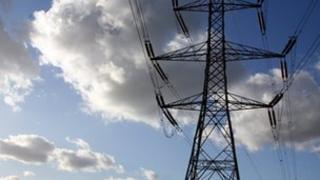 Campaigners and MPs have opposed plans to connect the National Grid to Europe by installing pylons across east Kent.
A power link has been proposed between Belgium and Richborough and the planned Kent link would connect that Nemo Link to the National Grid near Canterbury.
Kent MP Roger Gale said three local MPs opposed the plan and wanted cables buried underground instead of pylons.
The Campaign to Protect Rural England (CPRE) also wants underground cables. National Grid said pylons cost less.
Consultation events have begun on two possible routes for the 12.4 mile (20km) Richborough Connection.
One proposed route follows an existing lower voltage line, which would be replaced with a higher voltage line. The second route is on land that does not have a power line.
'New energy sources needed'
Thanet North MP Mr Gale said the plans involved bringing a cable ashore at Richborough and running it on huge pylons across "a particularly beautiful piece of land".
Adding that most if not all local MPs opposed the plans, he said: "I don't think we can say that it is acceptable in this day and age to string wires across the countryside."
CPRE Kent chairman Richard Knox Johnston said the pylons would be seen from a considerable distance.
National Grid said many of the energy sources Britain had relied on for decades, such as coal-fired power stations, were reaching the end of their operational lives, and it had a duty to connect new energy sources to the UK network.
Project manager Steve Self said an overhead line was cheaper than underground cables and project costs would increase everybody's bills.
He said: "We can go underground but we think on balance that the costs of undergrounding and environmental impacts of undergrounding are such that that is not the the right solution for the whole of the UK."
The National Grid said the pylons would either be standard 164ft (50m) pylons or new T-Pylons that were about 115ft (35m) high.