Gravesend rowers rescued from Thames after boat snaps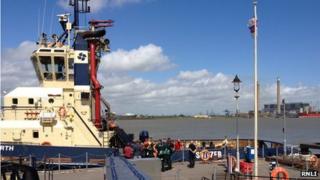 Nine rowers had to be rescued when their boat was overwhelmed by a wave and snapped in half on the River Thames.
The crew from Gravesend Rowing Club spent 45 minutes in the water on Saturday afternoon before they were spotted by a tug boat off Gravesend.
Five were rescued by the tug Millgarth and the remaining four were pulled from the water by the Gravesend lifeboat.
One rower suffered mild hypothermia and had to be taken to hospital.
'Gigantic wave'
Alex Wood, captain of the rowers, recalled how conditions out on the river had changed really quickly.
"The waves got really high, so we turned it [the boat] around.
"We'd started rowing back and then what seemed like a gigantic wave hit us from the bow, filled the boat up, and then the boat snapped in two."
The crew were spotted clinging to the wreckage of what was left of their boat, waving their oars to attract passing ships.
Steve King, of Gravesend RNLI, said they were lucky to have been spotted.
"They were up to their shoulders in the water - it [the boat] was actually sinking underneath them.
"Had they been in the water any longer, we may have been dealing with a different scenario."