Graeme Lothian: Shot Kent war artist 'may not paint again'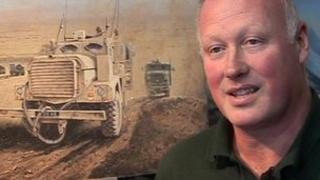 The partner of a war artist attached to the Army, who was shot by a Taliban sniper in Afghanistan, has said she fears he may not paint again.
Graeme Lothian, 53, from Tunbridge Wells in Kent, was flown back to the UK on Wednesday and is recovering at Birmingham's Queen Elizabeth Hospital.
The former paratrooper underwent a third operation on Friday for injuries to his left arm and hand.
Sameena Shakoor said it was too early to say whether it had been successful.
'Very positive'
"The tragic thing is that he was a fine artist - his painting is his life - and he is left handed," she said.
"He had fantastic care in Afghanistan and then here but the worrying thing is that he may not make an adequate enough recovery to go back to his painting."
Mr Lothian went on his fourth tour in Afghanistan as one of the Armed Forces' official war artists on 6 June.
Dr Shakoor, a consultant paediatrician, said: "He's still very positive about what the army are doing out there and still wants to record what the men are doing.
"He'll always have a connection to the military."
After he was attacked last Sunday, Mr Lothian had initial surgery in Afghanistan.
He underwent a further operation at the Queen Elizabeth Hospital on Wednesday, before Friday's procedure to put a plate on to broken bones in his hand.
He could be discharged at some point next week but may need further surgery in the future, Dr Shakoor added.
Mr Lothian has painted in places including Jordan, Syria, Oman, India and Australasia.
He works part time as a postman to supplement his income from art.